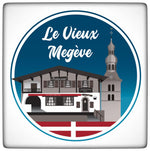 We would like to share a few authentic local French food gems we discovered while traveling across our native France. The restaurants we hand-picked were selected based on the aesthetics of their interior design, the quality of their cuisine, and our French culinary culture. We asked our relatives and the locals for their restaurant recommendations, and we tasted many different dishes in multiple places. We are happy to share our favorites here, and we bring you some of their best flavors from France in the tips and recipes we provide in our blog and in the products sold in our San Francisco shops.
We will start by presenting The "Vieux Megève" which has been a traditional family restaurant for 45 years, in Megève, a historic village and ski resort in France. It serves traditional cuisine with authentic dishes from the Alps, unlike other restaurants in the area that try to be more trendy, but the quality does not necessarily match their ambitions. 
For lunch and dinner, open the door of their restaurant, come and taste a family cuisine made of Savoyard specialties all served around a large fireplace, in a typical mountain setting. Discover "à la carte" dishes on-site or to take away. Among their specialties you can savor the original recipes from the mountains of the Savoie region: Savoyard fondue, raclette, hotpot, tartiflette, gratin dauphinois (a version of potatoes à la dauphinoise), blueberry pie... And in summer, you can enjoy their outdoor deck. 
Address : 56 Place de la Résistance - 74120 Megève - France
Phone: +33 4 50 21 16 44 
Email: courty@sfr.f 
Website: http://levieuxmegeve.fr/
Thank you for reading this article. We hope you like it and we would love to hear what you are cooking. Make sure to tag us in your posts on social media and we will be happy to share your recipe!
Follow us on our social media:
Instagram: @Lafromageriesf
Facebook: LaFromagerieSF
Twitter: @Lafromageriesf