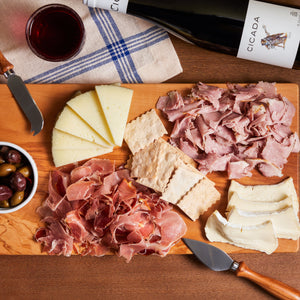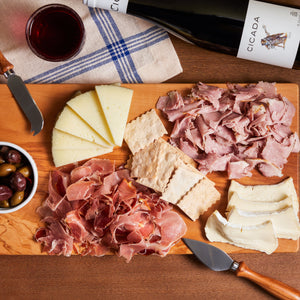 On Sale
The Gourmet Cheese, Meat & Wine Assortment
Do you miss that semester you spent abroad in Paris? Take yourself back to that sweet time with our Happy Hour assortment. Everything from our olives to our LF Double Cream will take you back to evenings on the patio people watching. Send a gift box to your fellow study abroad friends and reminisce the good times over a zoom call.
0.25lb La Fromagerie's Double Cream Cow's milk

0.25lb Manchego Sheep's milk
0.25lb Prosciutto Di Parma
0.25lb Local Rosemary Ham
Jar of Mix Greek Olives 
Organic Crackers 
Our Happy Hour box includes half a pound of cheese and half a pound of meat. Will serves 2-4 cheese lovers.